On a Friday night, we sat around the table eating popcorn, drinking hot chocolate, and talking with our houseguest...Shane Claiborne. Shane is an author, activist, and founder of The Simple Way, an intentional community in Philadelphia.
We first came in contact with Shane's work through his book The Irresistible Revolution. For Sophie, the book brought together her faith commitments alongside her concern for social issues, giving her more clarity on what to study in college and encouraging her to adjust her daily living to reflect these values. For Jared, the book served as a missing piece in what Church was currently offering and painted a picture for what fully dedicated Kingdom-living might look like now. He had the youth staff at San Diego First Church read the book. For the both of us, Shane's work was both inspirational and challenging, and helped us shape the values of our marriage around simplicity, hospitality, and justice.
So, why was Shane sitting in our house? Sophie will take it over…
During my first year in seminary, the state of Georgia scheduled an execution date for Kelly Gissendaner. Though I had advocated for the California proposition against the death penalty in 2012, regularly scheduled executions weren't a regular practice there, so I hadn't given much thought to the issue. But this execution was different. People in my community knew Kelly. They had served her communion. They had taught her in theology classes. They had written letters with her. They had received ministry from her. Her story was compelling, because I was learning about a prisoner as a real person. Flawed, yes. Guilty, yes. But also forgiven and transformed. Kelly's story of grace highlighted for me the absurdity and barbarity of the death penalty.
Despite a groundswell of support, including a petition of over 92,000 signatures, including many of yours as well as a letter from Pope Francis, the state of Georgia executed Kelly in September 2015. She died singing "Amazing Grace."
Shortly thereafter, I met Shane at the Christian Community Development Association (CCDA) Conference, where he told a few of us Candler students about his upcoming book focused on the death penalty, called Executing Grace: How The Death Penalty Killed Jesus and Why It's Killing Us. Shane told us when he did a book tour, he didn't simply want to come read passages and sell copies. He wanted to highlight the way the death penalty affects real people, and bring alongside family members, ex-felons, and policy makers who deal with this daily. As he said, he chose to advocate against the death penalty, but for other people, the death penalty chooses them.
Our Candler community had been affected by the death penalty, and situated in Georgia, a state that had the highest number of executions in 2016, we knew it was affecting more communities. Furthermore, because it is our tax dollars and elected officials that enforce this punishment, we realized we were all implicated. As a seminary and students training to go into churches, we were convicted by Shane's explanation that the death penalty has not existed in spite of Christians, but because of Christians. Situated in the Bible Belt, we wanted to have a discussion about theology, ethics, law, and the personal impact of the death penalty. So we invited Shane to a three city speaking tour called Executing Grace in Georgia: A Faithful Conversation About the Death Penalty.
As we traveled to 3 cities in 30 hours, I saw that this movement is building, and despite the continued operation of this death machine, I have hope. As Shane said in the final event, "Before every movement, they say it's impossible. After every movement, they say it was inevitable." Change seems unlikely. Change seems daunting and impossible. Yet we are committed to hope. As Kayla Gissendaner, Kelly's daughter, said at the panel, "I never gave up hope because my mom deserved every ounce I could give." If Kayla can maintain hope, so can I. If Kelly can die with Amazing Grace on her lips, we can trust that grace will indeed get the last word.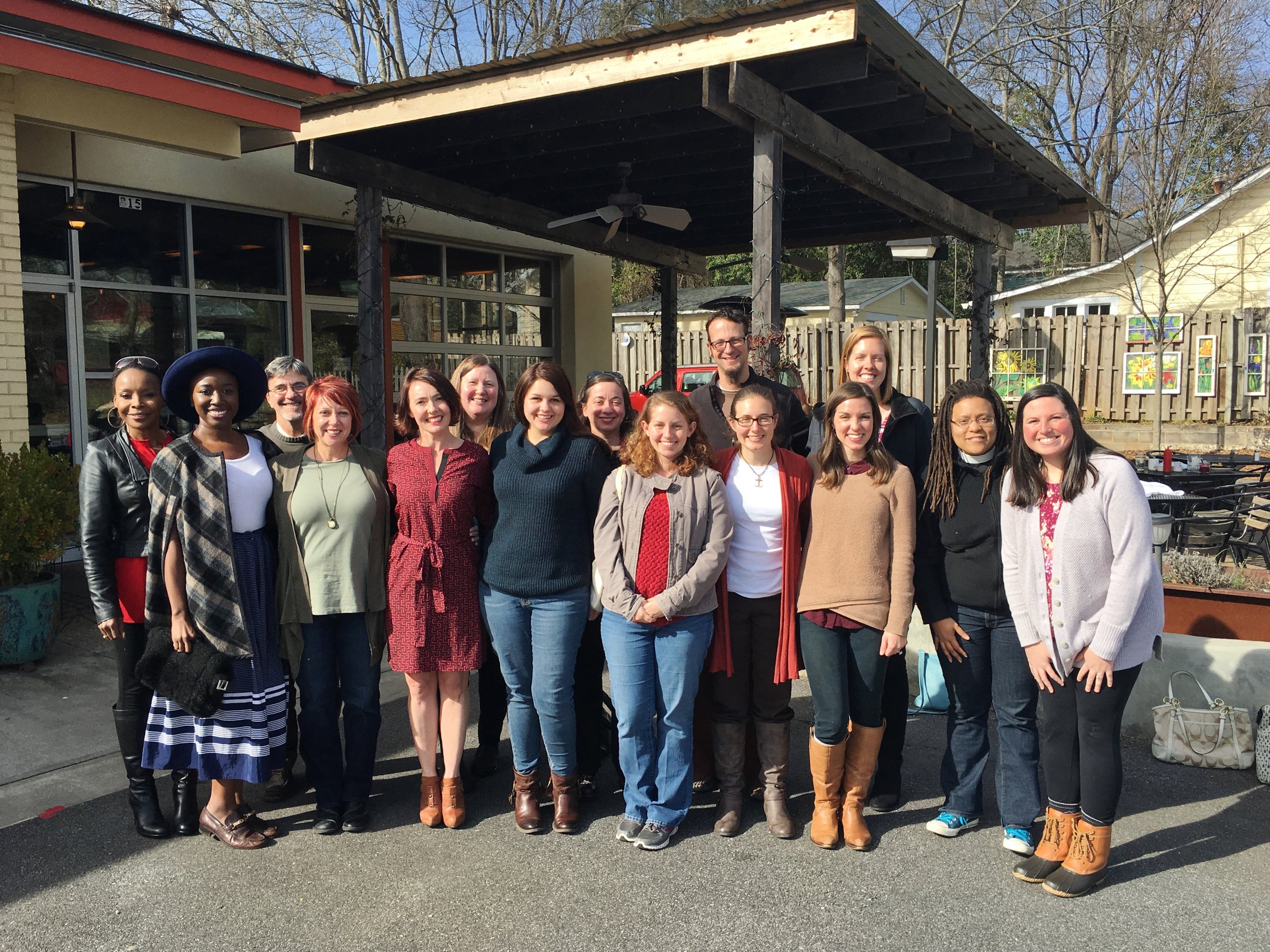 (click photos for slideshow)
Sometimes Shane gets dismissed for being too idealistic or too outrageous. But spending a weekend with Shane, doing regular things like driving around Georgia and sharing meals, just revealed to us a person who is all in for Jesus. Shane sees injustice in the world and engages it with his whole self. Hearing about his family and his neighborhood, and the creative ways they are building a world they want to live in, reminded us that what he preaches is possible. More accurately, what Jesus preaches is possible. Shane is, simply, is doing what we're all called to do as disciples of Christ. Shane is fully committed to loving God with heart, mind, body, soul - and wallet, neighborhood, and vocation. He's not special, he is faithful. May we all find more ways to be faithful to our calling.